So I am going to be writing about down turned eyes and how I balance my own out to where I like them to be. So I love my eye shape and never had problems with makeup because of them, but sometimes I feel like I look tired. This is a way to help lift your eyes while still looking natural.
Products you'll need:
Mascara (brown or black)
Angled eyeliner brush or flat eyeliner brush
Brown eyeliner (Black if you want a more dramatic look)
Brown eye shadow
Step One:
First you'll need to line the upper inner rim of your eye (tight line). I used brown gel eyeliner but if your eyes are too sensitive you can use a pencil eyeliner. (I used maybelline eyestudio brown gel eyeliner)
Step Two: Then you'll want to line the outer half of your lid with the brown eye shadow. If you want to make it more defined you can apply a gel eyeliner in place of the eye shadow. (I used the brown eye shadow from the Smashbox Classified palette with the brush that came with it. You can also use the MAC 212 brush.)
Step Three: Apply two coats of mascara. To make your eyes even more lifted apply a third coat to only the outer half of the eye lashes. (I used Sephora black mascara with Covergirl Lashblast in brown black)
Quick Tips:
If wearing eye shadow, make sure to apply it in an almost egg shape, smallest amount in the inner corner while gradually getting thicker as you go to the outer corner to almost create a smoked out winged look.
Winged eye liner will also lift your eyes, but in a little more noticeable way
Basically the majority of the makeup will be in the outer corner in order to create a rounded or balanced eye shape.
Products I Recommend:
Forever 21's Love & Beauty Eyeshadow Palette: $3.80
This is a cheap and comparable alternative to the smashbox palette I used for the look.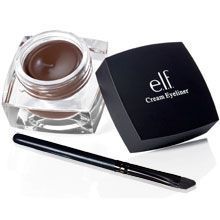 E.L.F. Cream Eyeliner in Coffee: $3.00
This is a cheap alternative I've used. It does tend to dry out rather quickly, but it's definitely worth the price and more.
Final look: